Character design, Identity
ALGO Solmates
is an NFT project built on the eco-friendly Algorand blockchain and produced by the team behind
The Happy Broadcast
and the self-care app
WHOLE
.
Sol,
WHOLE
's mascot, is the core character of
ALGO Solmates
digital collectibles, that are available as limited editions of both generative and custom artworks.
The project intends to bring awareness to mental health topics and help destigmatize them: for this reason
ALGO Solmates
owners get a free annual membership to
WHOLE
and 25% of the net proceeds from the primary sale of all NFTs are donated to mental health charities.
Here I've collected samples of my artworks for the project, developed closely with creative mastermind Mauro Gatti and startup veteran Keith Bonnici.
Logo and monograms
Given the open and welcoming nature of the project concept, I designed a friendly and casual logotype around a marker-style lettering matching the NFTs look. Two companion monograms complement the standard identity and serve as extra design elements to be used in the ALGO Solmates artworks themselves.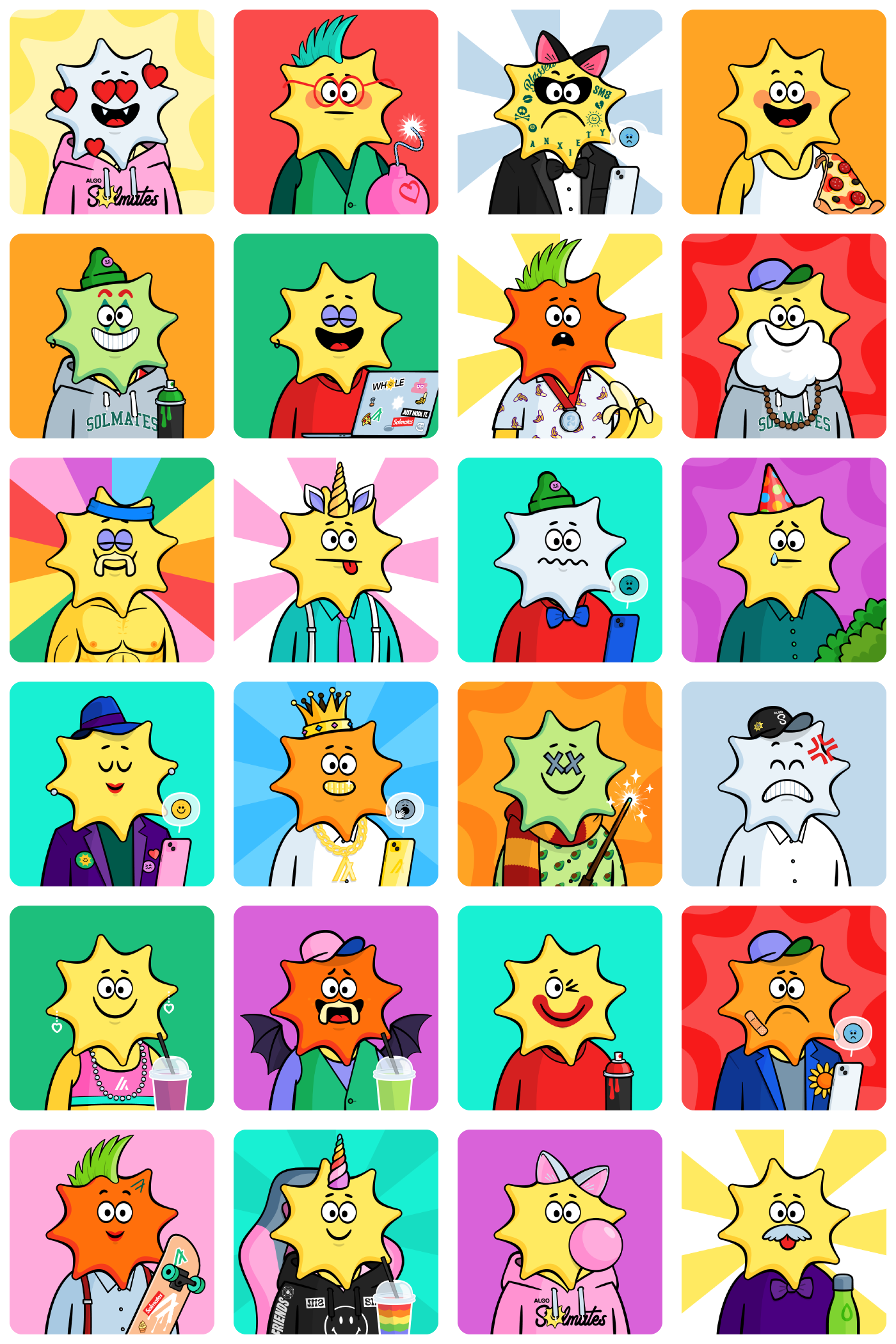 Generative Solmates
ALGO Solmates main collection consists of 1000 artworks generated from random combinations of 300 hand drawn layers. I opted for a pop and cartoony illustration style: the resulting characters express all kinds of feelings, plus they look relatable and fun.
Custom Solmates
Besides the generative collection, up to 200 additional custom designed ALGO Solmates are minted for special cases (collaborations, features, community gifts, competition prizes or charitable donations).
A happy community
Without community, an NFT project cannot survive, so
ALGO Solmates
holders participate in games, polls, giveaways, discussions and get access to future shuffles, releases and drops. Such involvement is made possible through a rich network of platforms, also aimed at improving the happiness of the community itself (
Discord
,
Twitter
,
NFT Explorer
,
Rand Gallery
,
WHOLE
,
The Happy Broadcast
,
Anxiety Free News
,
Anxiety Fight Club
).