A Giant Story tells the tale of an engineer, Pari, who watches her friend Pete struggle as the owner of a small flower shop. Pari tries to come up with new ways to free up Pete's time with clever tools and inventions for his business. Ultimately, she finds a way to give the "Power of Giants" to Pete, giving them both more time to focus on the things they love. Harnessing Intuit's products, Intuit Giants enable all self-employed and small businesses in town to spend less time worrying about their finances and more time doing what matters to them.

The short film is at the core of Intuit's first-ever corporate brand campaign, created by ad agency Phenomenon and directed by Againstallodds for Passion Pictures.

Here I've collected samples of my work for this project, developed with production assistant Paige Sullivan and designer Ronald George Mitchell.
Computer screens & interfaces
The film is set in a futuristic world where giant robots and smart delivery drones are ordinary, so attention to detail was key to making it believable. I took care of all the fictional software screens and UIs that Pari uses to design her inventions: boot and splash screens, a touch CAD environment sporting all kinds of geeky palettes, diagnostic displays, 3D preview panels, source code windows and error pop-ups.
Other device interfaces
I also did some minor UI work on other devices in Pari's lab: her holographic alarm, the smart fridge and the orders counter.
Blueprints
Pari's work process is suggested by her notice board filled with branded blueprints, design sketches and paper scraps with notes on them.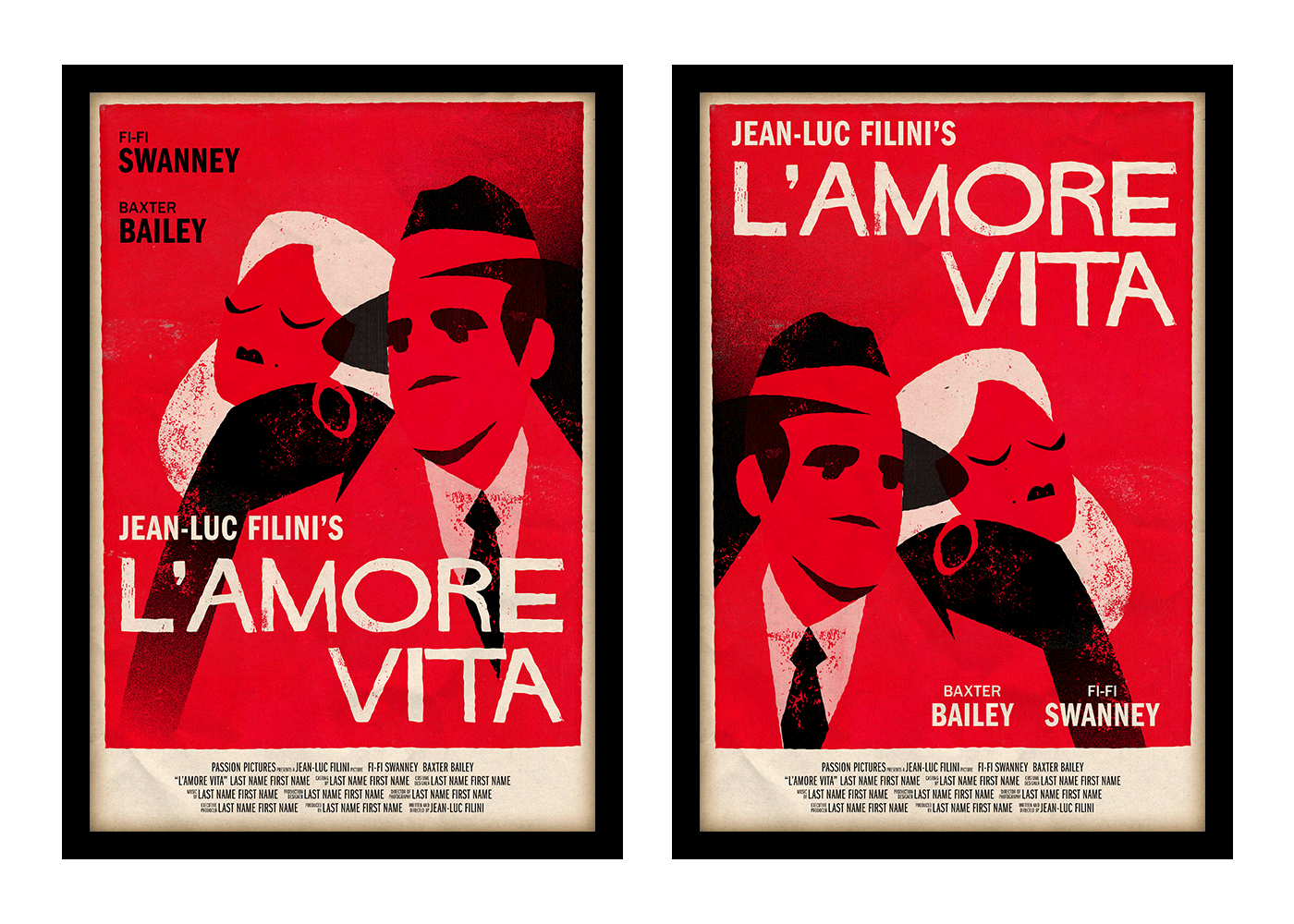 Film poster & festival banner
Even in a sci-fi short like A Giant Story there's room for some vintage cinema nostalgia: here are sketches, studies and final versions of the film poster, clearly inspired by cult classic romance movies.
I also designed the fictional "Mountain View Film Festival" banners hanging over the main streets of the city.
Bills, receipts & labels
Pete tries to keep up with bills, receipts and tax paperwork... a lot of bills, receipts and tax paperwork!
Signs & billboards
Lastly, I designed the Mega-shop billboards scattered all around the city, plus some shop displays and signs.
A Giant Story poster design by Zak Smith (art director at Phenomenon).
Credits
CLIENT: Intuit
TITLE: A Giant Story
DURATION: 4:17
TERRITORY: USA / Online

CMO: Lucas Watson
GLOBAL INTUIT MARKETING DIRECTOR: Lauren Staford-Webb
GROUP MARKETING MANAGER: Ed Brinkman
GROUP MARKETING MANAGER: Jake Witman
SR. MARKETING MANAGER: Lina Reeth
SR. MARKETING MANAGER: David Jacobs

AGENCY: Phenomenon
FOUNDER & CEO: Krishnan Menon
PRESIDENT: Erica Hoholick
CHIEF CREATIVE OFFICER: Chris Adams
CREATIVE DIRECTORS: Brandon Sides / Ted Kapusta
ACD WRITER: Spencer Cook
ACD WRITER: Scott Hanson
SENIOR ART DIRECTOR: Shawn Coogan
SENIOR ART DIRECTOR: Zachary Smith
DIRECTOR OF INTEGRATED PRODUCTION: Chris Kyriakos
SENIOR INTEGRATED PRODUCER: Julie Rousseau
INTEGRATED PRODUCER: Karin Ostrander
SENIOR INTEGRATED PRODUCER, DIGITAL: Jenny Court
JR. INTEGRATED PRODUCER, DIGITAL: Anoosh Voltaire-Behi
SENIOR DESIGNER: Nic Brenden
DESIGNER: Seth Stephan
SENIOR POST PRODUCER: Josh Abbott
ASSISTANT EDITOR: Evan Sartory
PRINT PRODUCER: Laurie Bloom
STUDIO MANAGER: Celine Nahas
SENIOR BUSINESS AFFAIRS MANAGER: Nancy Espinal
CHIEF STRATEGY OFFICER: Jason De Turris
GROUP PLANNING DIRECTOR: Michael Allen
GROUP BRAND DIRECTOR: Jenn Cook
BRAND DIRECTOR: Jamie Friedman
BRAND SUPERVISOR: Amanda Tutora
ASSISTANT BRAND MANAGER: Amber Style

PRODUCTION COMPANY: Passion Animation Studios
DIRECTOR: AAO
EXECUTIVE PRODUCER: Debbie Crosscup
HEAD OF PRODUCTION: Mike Turoff
PRODUCER: Adriana Piasek-Wanski
PRODUCTION MANAGER: Steve Riley
PRODUCTION ASSISTANT: Paige Sullivan
CG COORDINATORS: Joost Zoetebier / Suzanne Forward / Sade Tah
HEAD OF CG: Jason Nicholas
VFX SUPERVISOR: Dave Walker
CG SUPERVISORS: Chritian Mills / David Roman
CREATIVE DIRECTOR: Christian Mills
ANIMATION SUPERVISORS: Catherine Elvidge/ Aldo Gagliardi
COMPOSITING LEAD: Andre Bittencourt
EDITING: Daniel Budin

MUSIC COMPANY: Good Ear Music Supervision
ARTIST: Freedom Fry
SONG: Girl On Fire (Edward Sharpe and the Magnetic Zeros cover)
SOUND DESIGN COMPANY: Therapy Studios
SOUND DESIGN: Eddie Kim
PICTURE FINISH: The Mission Studios
AUDIO FINISH: Lime Studios
AUDIO ENGINEER: Rohan Young